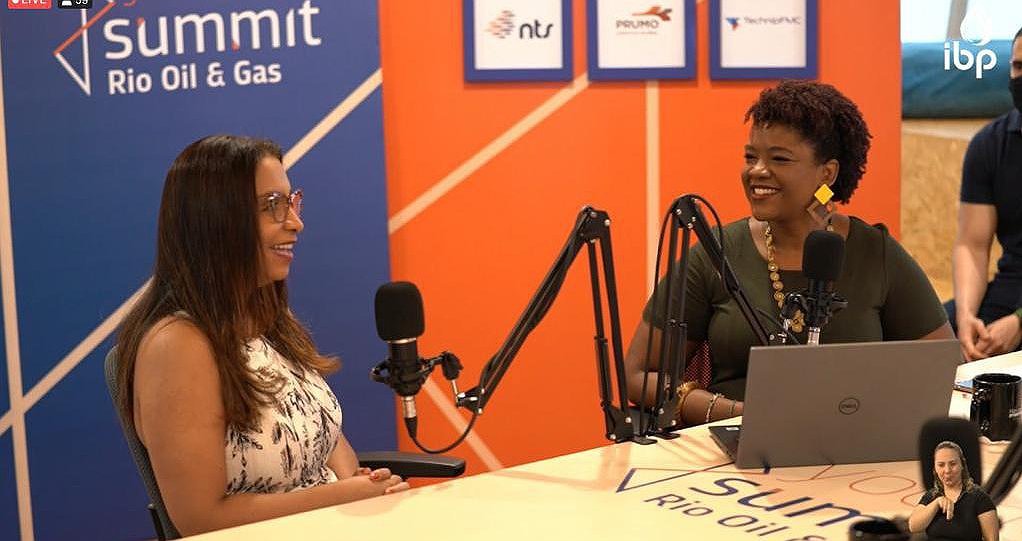 NTS participates in Young Summit Rio Oil & Gas 2021
Organized by the Brazilian Petroleum Institute (IBP) and sponsored by NTS, the Young Summit took place between November 30 and December 2
Organized by the Brazilian Petroleum Institute (IBP) and sponsored by NTS, the Young Summit took place between November 30 and December 2, and connected the entire industry to new generations, fostering the construction of an increasingly innovative, transparent, diverse and sustainable space.
The innovative and free convention, with the theme "The Future is made in the present - participate in building the new tomorrow", promoted more than 20 hours of round tables and debates focused on career, diversity and inclusion, entrepreneurship and digital transformation and sustainability.
Carla Diniz, our People & Management Director and President of the Young Summit, participated in the event's first live debate, on Instagram, with Thaise Temoteo, Coordinator of the Diversity and Social Inclusion Pillar and IBP Commissions and Knowledge Management analyst, and Victor Montenegro, IBP Events Manager. They brought exclusive information about the event, selection of themes and news about the contents covered during the program, in addition to interacting with different regions of the country, via chat.
At the opening of the event, Carla praised the organization's bold proposal for young people in the beginning of their careers and spoke about the oil and gas industry market. "The sector has a history of professionals with many years of career and, consequently, an accumulation of knowledge. Therefore, the exchange of experiences with the new generation is very rich. We want to dialogue and exchange experiences with those who will build the industry's history in the future!".
On the second day of the event, Márcia Bastos, NTS People & Management Analyst born in Minas Gerais, participated in the table "Who said it's just an accent?", on regionalization, the challenges of moving to another state and motivations to look for a job in another region.
At the end, Carla answered the audience about her trajectory, career and plans - from school, through the internship to her professional life. "It was a long path of discovery between Chemistry and Management, until I reached the people and management sector, where I found myself". The event's president also told the young people present that there is no right way to plan or make a career transition. "The possibilities are multiple, but they must involve defining a plan. Five years ago, I planned myself, considered the variables and decided that I wanted to do a PhD".
New NTS Talent Attend Young Summit
NTS interns and young apprentices watched the conversation circles directly from Fábrica de Startups, where the content was sent to the Rio Oil & Gas hub. Our young talents were able to exchange experiences with the speakers and participate in debates with questions.
For Carla Catarinozi, a NTS intern, the oil and gas industry is constantly changing, developing and innovating its infrastructure. "Being face to face with managers who invest in the future of young people brings interest in the area and in the development of our careers and in the future of the energy industry".
The future is build in the present!